Two jury groups have selected the finalists of two IdejaX groups of categories based on an online discussion. Read on to find out the complete list of finalists in each category...
IdejaX is a national creative competition that has been celebrating the creativity of agencies for 10 years. The creative projects were submitted to two groups of categories. The Best on Market group of categories awards projects according to the clients' industry category and both fully-realized campaigns and individual parts of a single campaign are eligible. The Best of Ad-Making group of categories celebrates the art of execution, especially the format and functionality that helped realize the idea behind the project.
The Best on Market jury was presided by Daniel Vuković (McCann Zagreb), and the rest of the jury members were Almir Okanović (BBDO Zagreb), Anselmo Tumpić (Studio TUMPIĆ/PRENC), Igor Mladinović (Imago Ogilvy), Ivan Tanić (Saatchi & Saatchi Hrvatska), Ivan Tušek (Degordian), Jurica Ćorluka (Señor), Sean Poropat (Studio Sonda), Tonči Klarić (UNFOLD), Vanja Ćinić (Bruketa&Žinić&Grey) and two regional members that joined to ensure jury neutrality: Ana Šutić (New Moment New Ideas Company) and Blaž Vuk (Pristop). They have selected the following finalists:
Food:
Brachia KIDS
Hrskanje koje pali
Latini
Alcoholic Drinks:
Teleportacija
Untouched by Light – Svjetlom netaknuto
Zaštićene zakonom
Non-alcoholic Drinks:
Deepest instagram profile 2
Duboko iznad svih
Spomenik neisklesanom tijelu
Retail and Household:
Dual purpose for a higher purpose
Fleka
Kod kuće je najbolje
Telecommunications:
A1 Lappsus
Điđi-Miđi
Klizanje
Poklon & Mir
Prilika života
Unlimited
Financial and Insurance Services:
Povratak
Wiener. Osigurava vaš mir.
Social Action:
Paperless
Tko pije, taj plaća
WC papir ti može spasit dupe!
Corporate Communications:
Beskrajna čestitka
Miscellaneous:
Utorak Srijedom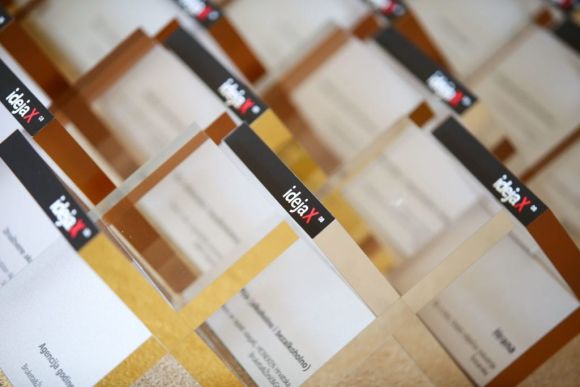 Nevio Marasović was the president of the Best of Ad-Making jury, which consisted of Bruno Anković, Fran Mubrin (404), Igor Manasteriotti (Manasteriotti DS), Isa Živanović (Mint2), Izvorka Jurić (Design Bureau Izvorka Jurić), Mladen Mileusnić (Digitalist), Nebojša Grbačić (Cvoke) and Zoran Đukić (Đkć). They have chosen the following projects to go through to the final:
Digital:
20 godina A1 Hrvatska
A1 Lappsus
Deepest Instagram Profile 2
Human rebranding
Film:
#RBAosjecaj
Duboko iznad svih
ERSTE Pobjeda
Predaj. Prodaj!
Unlimited
Design:
Bee's Magic identitet proizvoda
Brand identitet & Dizajn etiketa
CHOZEN – Peace of Chocolate
DISCOVER SUN U
Dual purpose packaging
Farina posebna brašna
Grand Park Hotel Rovinj – oblikovanje vizualnog identiteta
Latini
Nagradni natječaj Vegeta 60
Spomenik neisklesanom tijelu
Untouched by Light – Svjetlom netaknuto
While waiting for the official winner announcement, read more information about the IdejaX at www.danikomunikacija.com/awards/idejax.