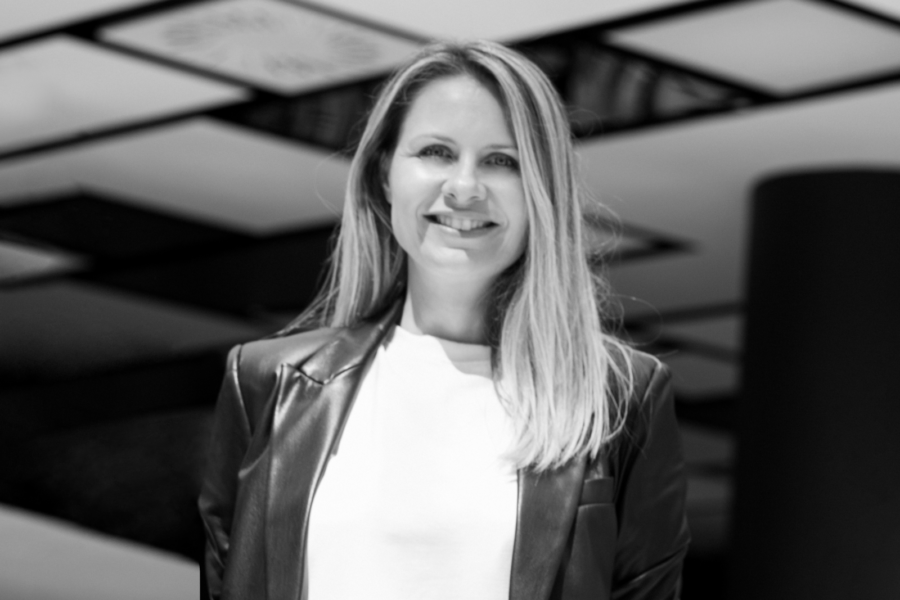 We bring you the full interview with Dunja Ivana Ballon, DK Festival and Program Director, done by Ekrem Dupanović and published on the 10th of May in the regional business journal Media Marketing. Find the original text here.
Ekrem Dupanović: In the interview with Dunja, we seek answers to the question why DK Festival is the most popular event in the regional communications industry.
There are many things in life we don't even think about too much, there are some which are harder to forget and those that we remember for a long time, events we keep coming back to and look forward to them. DK Festival is a part of this small group of memorable events. I have been to every edition of the festival and have left completely thrilled every time. Every year, I think it has reached its pinnacle. Yet the next edition always proves me wrong. At this year's DK Festival, I felt as if I had never attended the festival before, as if everything was new. This year, I really felt that it could not get any better. However, I can't really say that because I know that the HURA and IAB team led by Dunja Ivana Ballon have so much to offer. I honestly do not know what else she has left, she could rent a yacht for you to lie on the deck, sunbathe and listen to the talks… At the end of the interview, Dunja does reveal that she has some new ideas for the coming year.
Thanks to the brilliant Barbara Tolić Aušić, we have written extensively about DK Festival, both during and after the festival. It is now time to put the icing on the cake through this conversation with Dunja. We gave her enough time to catch her breath, complete the most urgent chores on her to-do list following the festival and now she is here, ready to share her impressions with us.
MM: Are you going on vacation as soon as you wrap up the finances?
Dunja Ivana Ballon: Not yet. I am more of a summer type — I happily give my free time to the sun, the sea and the beach. So the break will have to wait a bit more – DK Festival may be our biggest project, but still only one of many.
MM: From the choice of keynote speakers and panelists to the technical performance and the branding of every corner of the Hotel Lone – everything was amazing. Each of the three awards shows was spectacular in its own right. Many excellent campaigns and projects took part in the competitions. Your score?
Dunja Ivana Ballon: Thank you, Ekrem! Wow, you really complimented us with this totally not suggestive question 🙂 We regularly visit the world's biggest festivals, so it's nice to hear from others that we are among the best. The festival program was outstanding, the reaction unbelievable, the award-winning projects spectacular, but the one thing that really makes us stand out is the community – our people who breathe life into every corner of the festival. They are the main factor that no one else has and that puts us in a league of our own. I know, I know, modesty is a virtue, but it would be unfair towards everyone who was a part of this story to say otherwise.
MM: This year, you were everywhere within a radius of 200 to 300 meters, from the Main Hall in the Hotel Lone to the beach. As far as I know, DK Festival is the only festival where you can lie comfortably on the beach while listening to the talks. Even the weather was fantastic.
Dunja Ivana Ballon: I can't wait to see who'll copy us first 🙂 It turned out exactly as we had hoped for when we decided to be brave, to experiment and to invest a lot (emphasis on a lot). There were no pleasant surprises along the way; it was clear very early on that the expenses for this year would double. But after all, we don't do mediocre – our wishes, ideas, persistence, and stubbornness are far above average.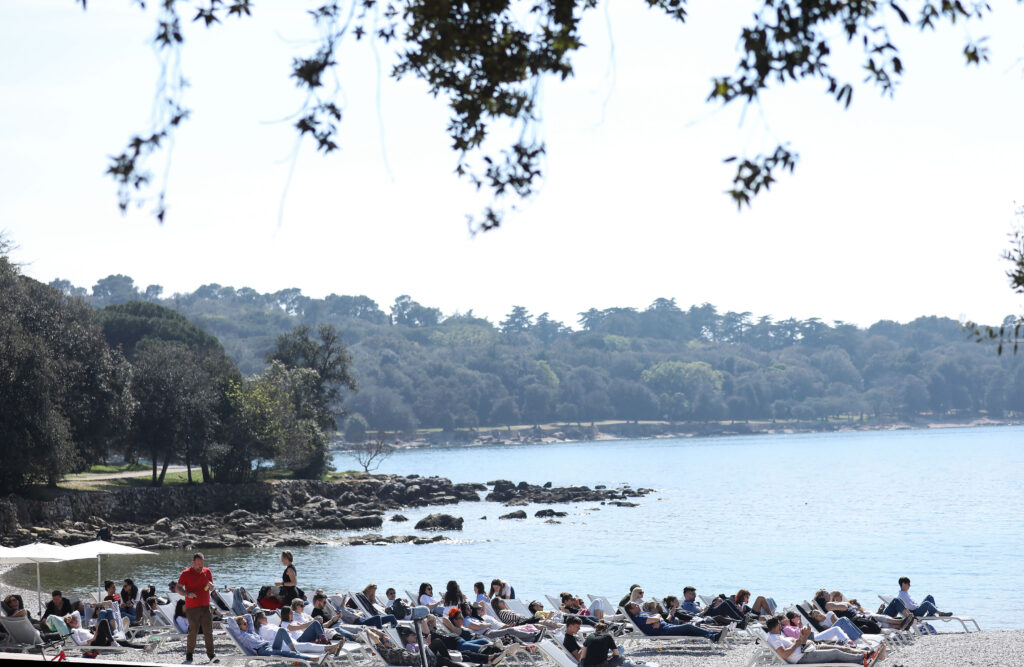 MM: How many people worked on the organization and the production of DK2023?
Dunja Ivana Ballon: There are about a hundred people I can thank for the organization of DK2023. But everything actually boils down to our dream team that makes HURA and IAB alive, a small team that truly loves their job and it shows every step of the way. We have shared the best and the worst days, so the saying "for better or for worse" really applies here. The team consists of our Project Managers Helena Fuker and Maja Baumschabel, who turn every project into gold, our Communications Manager Barbara Tolić Aušić, who fills the media space with wonderful content about the festival, Marin Vlainić who charms our community on social media every single day, Eva Trstenjak who oversees all of our competitions fabulously. Of course I cannot forget the wonderful Monika Bogdanić and Katarina Osmak and our favourites Fran Ljubej and Toni Šiško (famously known as Froni). The psychedelic design is done by the awe-inspiring visual artist Sven Sorić while the FUCK&LOVE festival story was created in collaboration with Jelena Babić aka Red. The production of a festival of this calibre has from the first day been conducted by Damir Stupnišek. Our l'extraordinaire Lara Stolnik makes sure that everything goes smoothly at the festival, and there is no joke with our lawyer Ivana Delalić when it comes to paperwork. Along with this team, a special shout-out goes to Iva, Mirella and Frenki, our resident MCs, who we consider family. The same goes for the irreplaceable Antonija Mandić, Ida Prester and DJ Rea. I have to also extend my gratitude to the tech crew, which is a large and colourful team (Marko, Žuti, Rasta, Bojan and others) who are always the first to arrive in Rovinj and the last to leave. A week before the festival, they prepare and set everything up and once the show begins, they watch over it for the whole 72 hours of the festival. I really admire and love all of them with all my heart.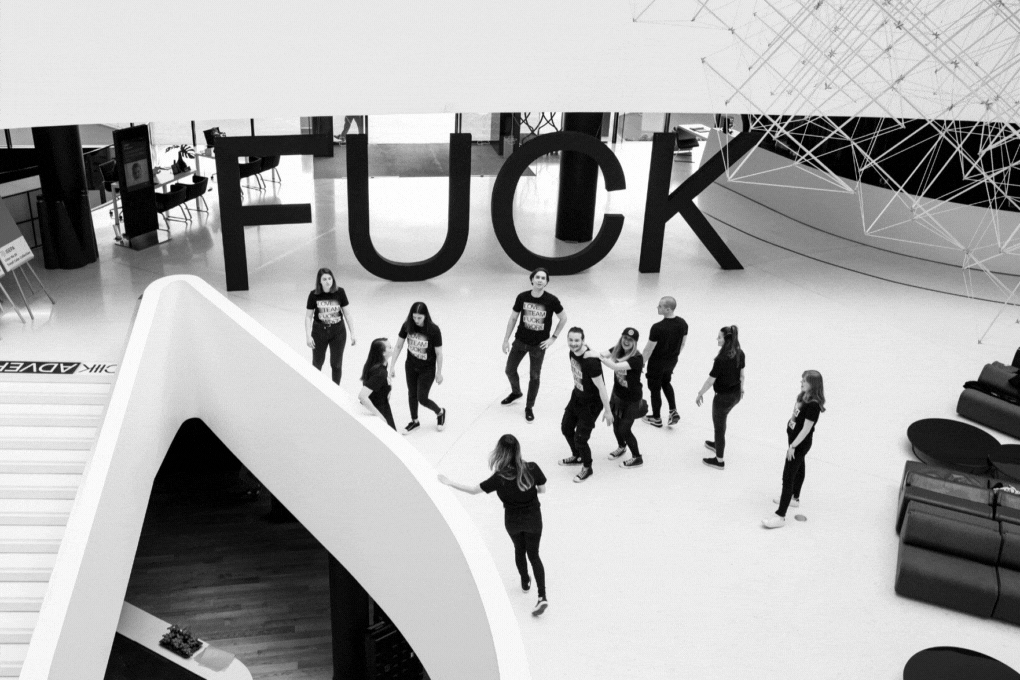 MM: DK Festival has evolved all the more into a regional event. Not only because of BalCannes, but also because of the topics it highlights, the speakers, panelists and other aspects of the program. And because of the visitors, of course.
Dunja Ivana Ballon: The region fell in love with DK Festival – and it was love at first sight. All the praise, all the thrill and the expectations that were exceeded made us feel super inspired for the next edition of the festival. We are already cooking up thousands of crazy ideas, but the only problem is that we need to wait for another year to turn them into reality.
MM: With DK Festival becoming more regional, it will surely come to share the pie with Weekend Media Festival. This is inevitable, so I would like to hear your opinion on it.
Dunja Ivana Ballon: We were blown away by the region's reaction to the festival, but the biggest change for us has come alongside a growing number of sponsors from the region who find our unique festival attractive and intriguing. To all of you — don't be shy and ruf mich an.
From a business perspective, Weekend and DK only have a minor overlap in terms of audiences and partners — and it has been like that for some time now. We are both quite concentrated on our respective targets, we are set up differently and offer different things. So I don't believe there will be significant changes, except that both events will continue to grow and be successful.
MM: What did you find most memorable at this year's festival, what will you remember the most?
Dunja Ivana Ballon: All those moments that don't make the headlines or get posted on social media – serendipitous conversations, waves of laughter, all the unexpected situations from the hotel corridors, rooms, by the pool and as of recently, on the beach. New memories for life with people that I hold dear to my heart.
If we're talking on-the-record moments, what left the strongest impression was Snowden's talk and conversing with him. Three Idas on the stage. Their rehearsals, our producer who had a role of a lifetime picking their gliterry outfits for the stage. I was laughing so much! Or Ida and Aida. The overwhelming positivity in the halls. The beach. The garden. The people. Days and nights that melt into one another as we drift through them with a lot of care and joy.
MM: Do you already have in mind what alterations you would like to make, something new you would like to introduce next year?
Dunja Ivana Ballon: Yes!
MM: This kind of event is impossible to organize without the help of a wide circle of people. HURA's management board, your closest team of regular partners, numerous external associates, sponsors, and friends. Whom would you like to thank?
Dunja Ivana Ballon: In my mind DK Festival has always been an opportunity to revel in excellent ideas and projects, but this year we went even a step further. People who made that possible, apart from the already mentioned dream team, are Anđela Buljan Šiber, Chairwoman of HURA, who has supported our crazy ideas for the previous four years (and a number of years before that), Davor Bruketa, who has encouraged the craziest of ideas from the onset and Damir Ciglar, who is always there for us. Furthermore, there is Jelena Fiškuš, who has been with us every step of the way and from whom special energy and positivity simply radiate, and Nikola Žinić, who sometimes takes over as the voice of reason (completely justified). Not to forget the members of HURA and IAB Croatia Board, Kristina Laco, Rajna Cuculić and Vanja Bertalan, who helped our associations achieve a plethora of amazing things and make a significant impact on the market, which is something only a few organizations can say for themselves. I would also like to thank Maistra and the Hotel Lone team, who support us no matter what in creating a narrative of Istria as a top destination where anything could happen. Finally, I would also like to thank you and all our other partners, sponsors, and above all else friends of the festival, who are the best collaborators in the world. Together with our community and our team, they are the reason that every year we don't have to imagine what our market would look like without DK Festival.