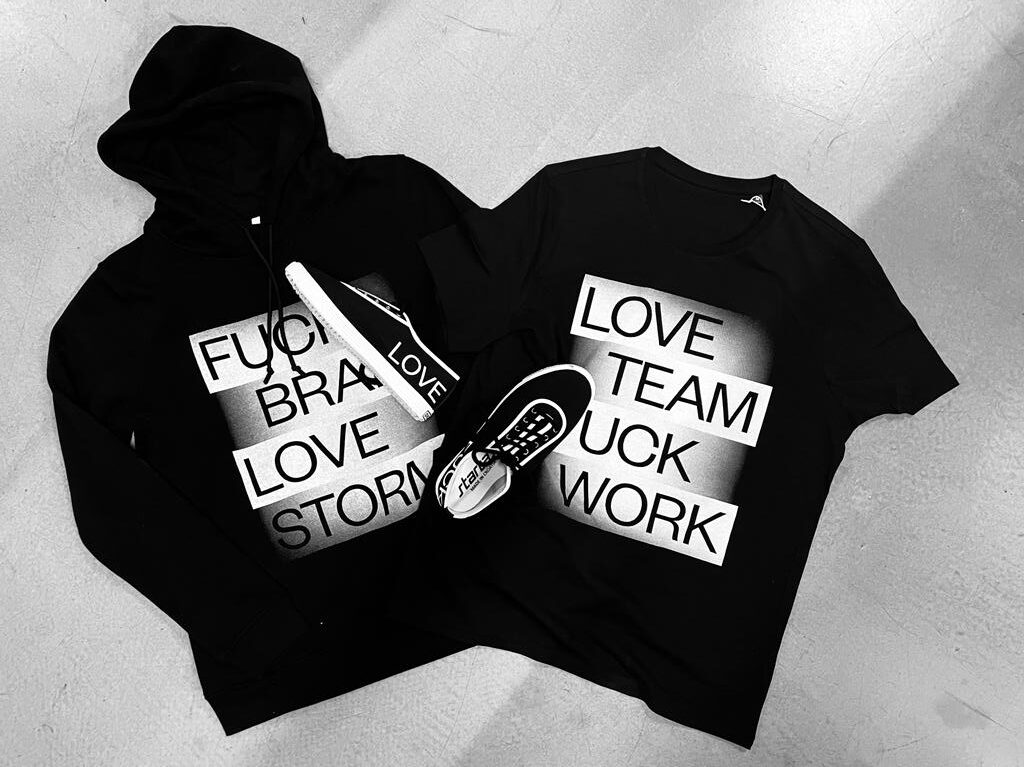 We know you're a colourful bunch of creatives who like to dress to impress. After a lot of brainstorming sessions and even more teamwork in our DK factory, we came up with the perfect fashion pieces to get you in the DK2023 mood. From limited hand-made Startas sneakers to the coolest hoodies you've ever worn and perfectly tailored T-shirts – we have it all (okay, pants are missing, but hopefully you were planning on wearing them either way). Find below what we cooked up for you and at the end we are revealing how to participate in our giveaway!
LIMITED EDITION DK2023 COLLECTION
FUCK STOP. LOVE START. Startas sneakers (30 EUR online / 21 EUR on-site)
Start the show. You finally can with our limited hand-made unisex Startas sneakers! We wanted them to be wearable even when you leave our festival so the FUCK STOP. LOVE START. copy will make sure everybody around you knows you're a true go-getter that is always up for action.
Sizes of the sneakers range from 37 to 44.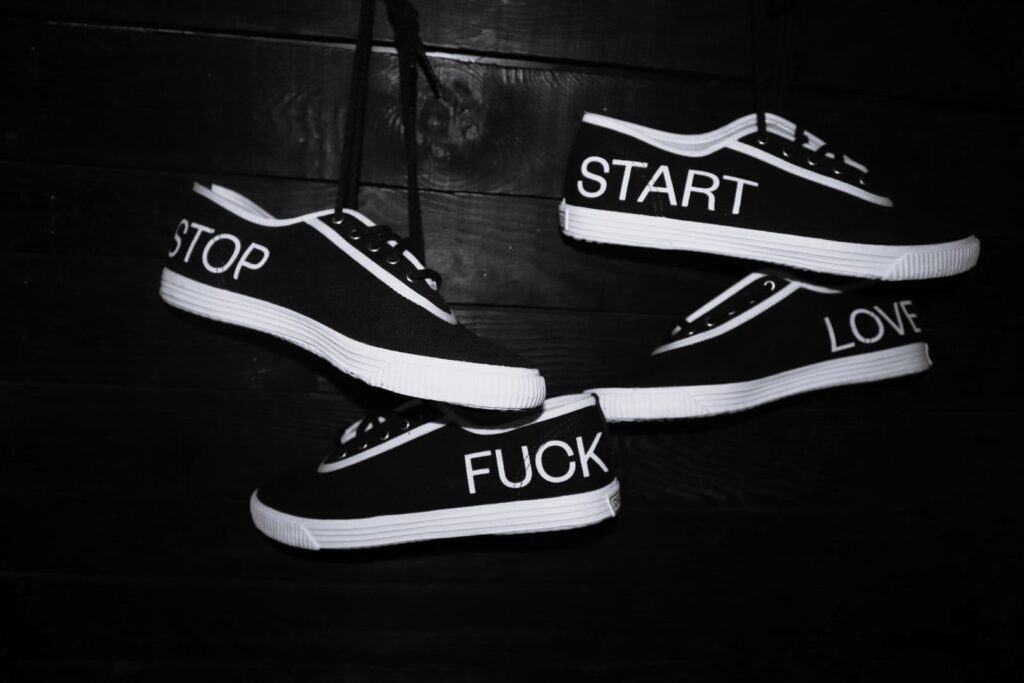 FUCK BRAIN. LOVE STORM. Hoodies (40 EUR online / 28 EUR on-site)
Looking to get the perfect addition to your wardrobe for the next brainstorming session? Look no further than our new FUCK BRAIN. LOVE STORM. Hoodie. As comfortable as they are stylish, our hoodies are a perfect balance of style and substance. So go ahead and embrace the storm – you never know what brilliant ideas might come out of it.
Women's hoodies include S, M and L sizes, while men's hoodies come in M, L and XL sizes.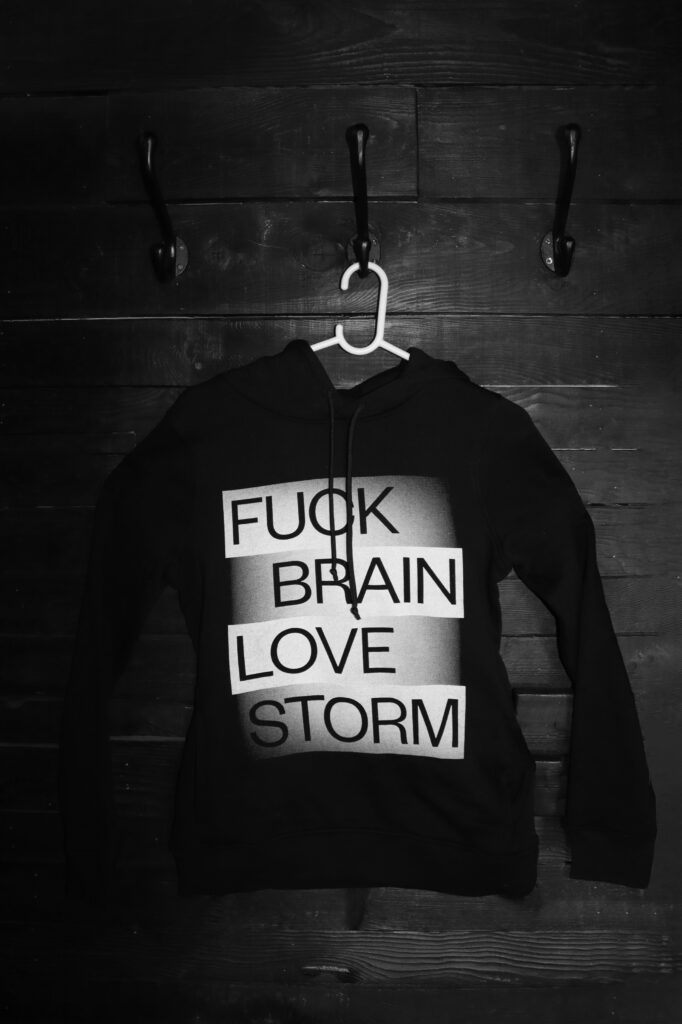 LOVE TEAM. FUCK WORK. T-shirts (20 EUR online / 14 EUR on-site)
We can all agree that we only adore one part of teamwork. Work can be fulfilling, but the team you see each day in the office makes the world go round. So, naturally, we had to put it on a T-shirt. Whether you wear it to the office to make a statement or out on the town to turn heads, the LOVE TEAM. FUCK WORK. T-shirt is sure to be an ideal conversation starter. Or ender, depending on who you're talking to.
The unisex T-shirts come in S, M, L and XL sizes.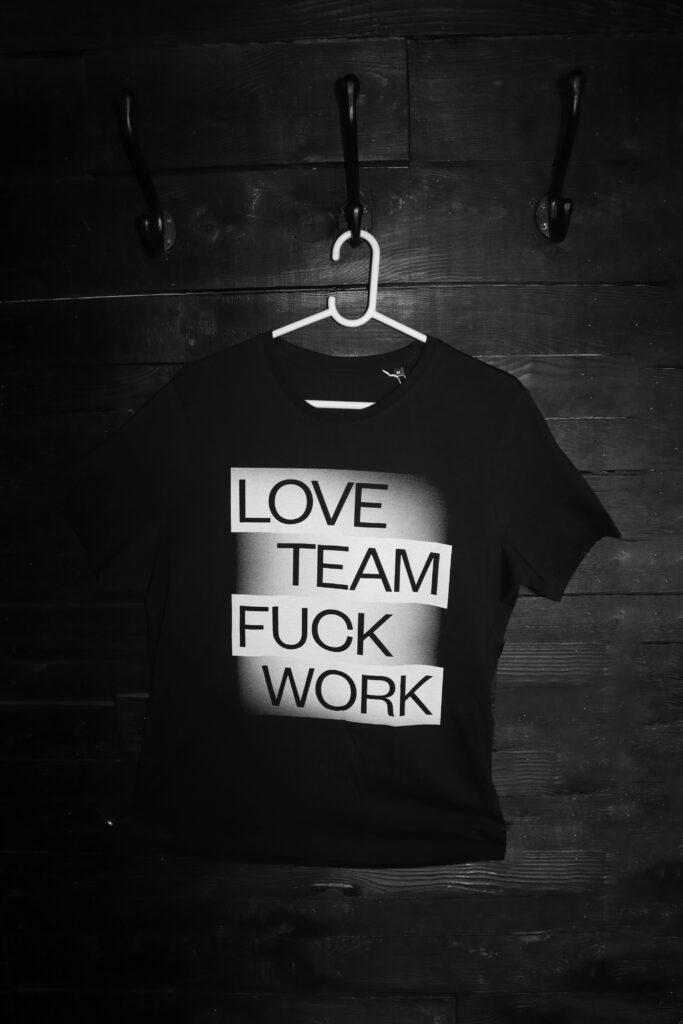 HOW TO ORDER
The irresistible urge you're feeling right now to get the latest DK drip is completely understandable. You have two options to satisfy this urge:
[ON-SITE WITH 30% DISCOUNT] Get what your heart desires at the Lone Concept Store (Ground Floor) every day of the festival from 9 AM to 3 PM – with a 30% discount!
[ONLINE] Order online by sending an e-mail to info@danikomunikacija.com. Just make sure to write what you want to get, in what size and quantity. We are magical but we (still) can't read minds.
Very important note: This is a limited collection, so get your hands on the DK2023 merch before your colleagues do.
[GIVEAWAY] HOW TO GET FOR FREE
We want to be friends for life. We know the feeling is mutual and we want to reward you for our long-lasting relationship (or the one that has only begun, we love all our friends equally).
Those who subscribed to our DK newsletter (do it here) that keeps you up to date with the latest news about your favourite festival and industry awards before DK2023 started on 20 April, received a prize from the DK2023 limited edition! The giveaway lasted until 19 April 2023 EOD.
The winners can pick up their reward at the festival's registration point (we'll have a list, but it wouldn't hurt to mention the giveaway while registering). If you somehow get lost on your way to Rovinj, we can send it to you after the festival as well.
And for those who aren't following our socials and web as closely, don't worry – you can expect other ways to get our limited collection for free at the festival. See you there!